Advanced Technology
Full Inverter Technology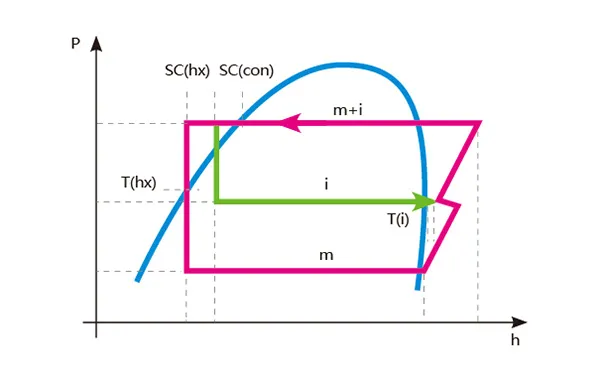 Through over 20+ years of research and advancement, TONGYI heat pump has mastered mature inverter technology and has applied to different category of its heat pump products, including heat pump for house heating and cooling, commercial heat pump water heater, which has improved the energy efficiency of up to 20%-60%, bringing great energy savings to the customers.
New Gas Application
TONGYI heat pump products use R32 as refrigerant. Outstandingly leading the industry, heat pump product with new nature gas CO2 for commercial water heating solutions has developed and launched to the market as well.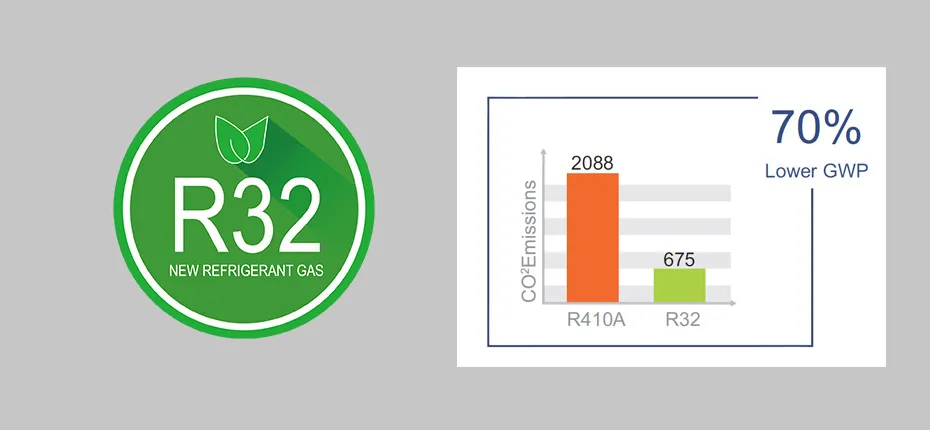 The influence that the refrigerant do to the performance of the product is very critical. Not only does the refrigerant has to be stable, non-toxic, superior in performance, but also has to meet the requirement and environment rules of different countries. Last but not least, it has to be economic.
Also heat pump with R290, R454b,R1234yf, R1234ze, R744 is also available
Super Silence Performance
Through repeated advancement on internal structure, adoption of branded compressor, fan motor and inverter technology, TONGYI heat pump heat pump product can run very silently, the sound level of which is much lower than most heat pump product from domestic heat pump manufacturers.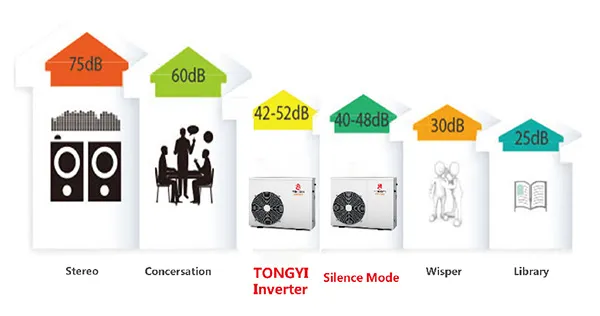 IoT Technology
TONGYI heat pump has a strong IoT technology thru 4G DTU and connection with AWS, which helps unit trouble shooting and optimizing in a better SLA. What's more, OTA is available when necessary.
Product Data Monitor
With IoT technology, we can check the heat pump status remotely. When there is fault occurs, it is easy for us to check the product information and give the immediate support to our customers.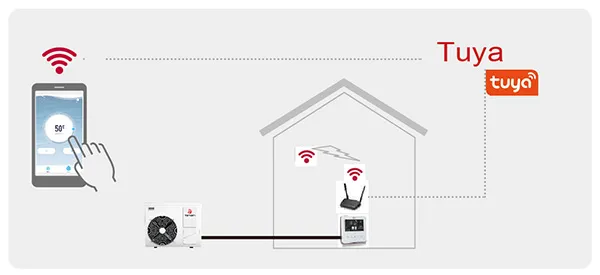 OTA
If there is any error happens on the software, we can do the remote service by updating the software online. And when the software has a new version with function upgraded,as long as we got your permission, we can update the software remotely.
Wide Application Range
TONGYI heat pump 's heat pump product can satisfy various hot water demand with wide hot water temperature range from 7℃ to 90 ℃. And its application occasions covers from domestic to commercial. Particularly, the temperature of heat pump for water heating in commercial application can achieve as high as 90℃,which is very powerful and leading the industry ahead in China.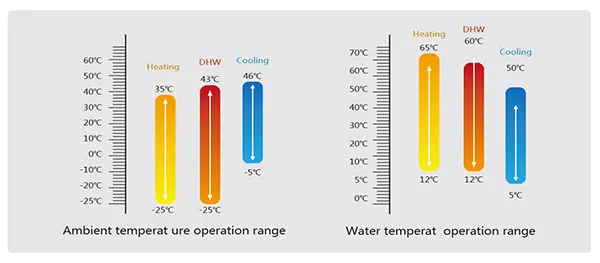 Low-temperature Operation
With the self-developed EVI technology and intelligent slide defrosting design, TONGYI heat pump house heating heat pump can operate stably in ambient temperature of -25℃, meanwhile supplies hot water of up to 60℃, and achieves a COP of up to 4.2. whose performance is very outstanding under super low temperature climate.
Quality Control
We always put quality on the top. For each process, we established clear work instructions and guidelines which let our workers easily and fully understand the production and their tasks, so that can ensure the quality. Meanwhile, we invest a lot of capital on advanced production technology and testing equipment. More importantly, Tongyi's environmental simulation lab has the capacity of testing heat pumps under the temperature from -25℃ to +52℃.In addition to above, all the incoming, process and outgoing inspections are very strict.

Incoming inspection: All the key parts are 100% inspected according to international standard and customer's standards.
Process inspection: Our IPQC will inspect all the process randomly.
Outgoing inspection: All finished heat pumps are 100% inspected before shipment according to international standards and customer's standards. On request we can provide inspection reports to our customers.
Ten millions of global users to verify together
Four way valve lifespan 100000 TS
Pressure switch lifespan 100000 TS
Solenoid switch lifespan 100000 TS
AC contractor operation 100000 TS
Motor LR test 200 TS
High temperature Rotate test for fan At room / high temperature life test for Electrical components
High Temperature test : 70℃x2160hs
Low Temperature test: normal starting after 24 hours at low temp box
Pressure test : Ac voltage 1800V, the leakage current is nor greater than 5 ma
Insulated resistance:》10MΩ
Salty test: 35℃, 5%NaCl Continuous spray 480h
LR test: 《150℃, Action temperature
4320hs long running test
Certificates
TONGYI heat pump ensures the reliability and quality of its products and to meet the technical & professional certifications of overseas markets. As an international brand, TONGYI heat pump holds several international certifications, including CE, CB, ETL, UL and so on.

Patents
TONGYI heat pump has patents as in the field of heat pump in 20+ years' development. Moreover, owning to TONGYI heat pump strong R&D ability, TONGYI heat pump are presented with many National standard draft Excellence Award and High-tech Products awards.
Quality-guaranteed Components
TONGYI heat pump has a mature supply chain system. International brands such as Mitsubishi and Panasonic have a long history of cooperation with TONGYI heat pump and have entered strategy cooperative relationship, which can be one of TONGYI heat pump core advantage in product quality and stability.
Certified Labs
TONGYI heat pump has built up a variety of testing labs providing a full range of tests for its products, which include general capacity testing, corruption test, reliability testing and low temperature resistant testing, etc.

Company Management System
TONGYI heat pump has completed internal management systems. They are ISO9001, ISO14001 and ISO45001 which are the most comprehensive and systematic international standard of company management in the world
Lean Production
TONGYI Heat Pump is certified with ISO9001, ISO14001, ISO45001 and also recognized as clean production factory. With the implementation of modem and scientific management practices, such as ERP, OA, PLM, MES making our whole company work more effectively and efficiently, and enabling us to serve and satisfy our customer needs better.